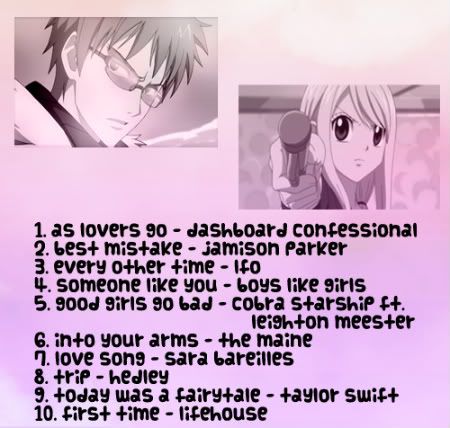 Words cannot describe how much I love these two together, so ta-da, fanmix was made! (Sorry if these songs are so overused... I was kinda suffering from a music block orz)

Anyway, if there is anything wrong with the download, let me know right away and I'll try to fix it as fast as I can. To those I owe requests, don't worry I'll try to have those done soon! I've been busy, blahh.

Well, I hope you enjoy this (this pairing doesn't get nearly as much attention as it should imo *3*)~ &hearts

01) As Lovers Go
(Dashboard Confessional)
She said, "I've gotta be honest,
You're wasting your time if you're fishing round here."
And I said "you must be mistaken, I'm not fooling... this feeling is real"
She said, "you gotta be crazy,
What do you take me for? Some kind of easy mark?
"You've got wits, you've got looks,
You've got passion, but I swear that you've got me all wrong."

02) Best Mistake
(Jamison Parker)
If this holds insignificance,
I'll have the hearse follow the ambulance
No medicine exists to make my lungs work again
Let's shake and burn, like an addict
My hearings dead, only static
If I said your smiles all that mattered
Would you save my life

03)Every Other Time
(LFO)
I said lets talk about it
As she walked out on me and slammed the door
But I just laugh about it
'cause she's always playin' those games
Deep down I know she loves me
But she's got a funny way of showin' me how she cares
Last night she did a doughnut on my lawn
And drove out with her finger in the air
Oh, yeah

04)Someone Like You
(Boys Like Girls)
My life in the rear view,
I'm running from Jesus,
Don't know where I'm goin' to.
Got nothin' to lose, I'm fightin' my demons,
Been lookin' for someone like you,
I've been lookin for someone like you.

05) Good Girls Go Bad
(Cobra Starship ft. Leighton Meester)
I know your type
(Your type)
You're daddy's little girl
Just take a bite
(One bite)
Let me shake up your world
'Cause just one night couldn't be so wrong
I'm gonna make you lose control

06) Into Your Arms
(The Maine)
There was a new girl in town.
She had it all figured out.
(Had it all figured out)
And I'll state something rash.
She had the most amazing....smile.
I bet you didn't expect that.
But she made me change my ways.
(She made me change my ways)
With eyes like sunsets baby.
And legs that went on for days.

07) Love Song
(Sara Bareilles)
I'm not gonna write you a love song
'Cause you asked for it
'Cause you need one, you see
I'm not gonna write you a love song
'Cause you tell me it's make or breaking this
If you're on your way
I'm not gonna write you to stay
If all you have is leaving
I'mma need a better reason to write you a love song today

08) Trip
(Hedley)
Some say love is not for sinners
I believe that isn't true
'Cause when I was finished sinning
Love came down and showed me you
And you told me how to get there
So I tried to find a way
Then I ran into your garden
But I tripped out the gate
I tripped out the gate

Today Was a Fairytale
(Taylor Swift)
But can you feel this magic in the air?
It must have been the way you kissed me
Fell in love when I saw you standing there
It must have been the way
Today was a fairytale
It must have been the way
Today was a fairytale

10) First Time
(Lifehouse)
Looking at you,
Holding my breath,
For once in my life
I'm scared to death,
I'm taking a chance,
Letting you inside.
Comment if taking.
Do not redistribute anywhere else.
Enjoy~ &hearts